Greece & Turkey 2009
Athens, Istanbul, Epheseus and Pergammun
In late March 2009, we spent 4 days in Athens, 4 days in Istanbul and then did 2 day trips from Izmir to the historic Graeco-Roman sites of Ephesus (current Efes) and Pergammun (current Bergama.)
This is organized as a (large) set of contact sheets. Click on a thumbnail to see a larger version of the photo. I hope to make a travelblog with less photos and some narration from this set.
This cartoon might provide a "perspective" on my photos: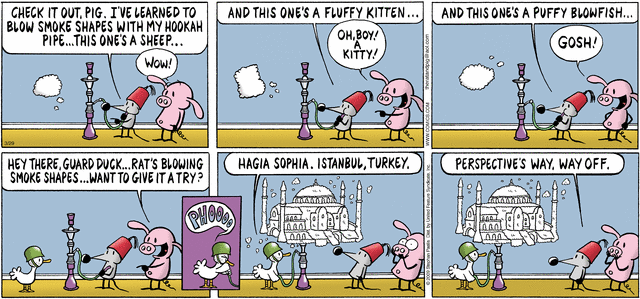 Photos were taken by my Canon Rebel XT, using mostly the EF-S 18-85 Image Stabilized lens (some were taken with a 100-300 IS lens). No post-procesing has been done on these images.
All photos Copyright (c) 2009 by David Emery. All rights reserved, images may be made available later on under a Creative Commons license. For commercial use, contact me.